Pints Personified
Here's some snackable content formatted for the expanding social media landscape, perfectly tailored for the shortened attention span of Millenial consumers.
Okay, they're actually television commercials. We were ahead of our time, I guess.
These spots are some of Ben and Jerry's first forays into the world of national television advertising, as well as mine. Animated in true claymation by Laika, creators of 
Coraline
, 
Paranorman
 and 
The Box Trolls
.
Flipped Out!
Flipped Out was a novelty sundae from Ben & Jerry's. To eat it, you turn the package upside down. We turned the simple product attribute into the crux of our campaign.
Print was run upside down, making the reader turn it over. It's like a product demo, just not as tasty.
UPSIDE-DOWN BUS
We decked out tour busses in San Francisco, New York, and Philadelphia. There was even an upside-down freezer truck doing a tasting tour.
REGIONAL PRINT
We did more upside-down print ads with custom illustrations for specific cities.
OUT-OF-HOME
And did station takeovers in New York and Boston.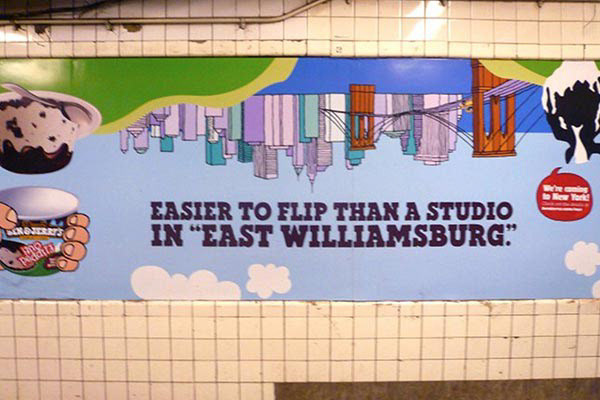 It's what's inside that counts.
Ben and Jerry's is known for wacky flavors and its hippy aesthetic, but it's also a leader in quality, sustainability, and fair trade practices. With foodie culture becoming the societal norm, they wanted to up their game and bring the quality of their ingredients to the forefront.
Fairtrade Flavors
When it comes to responsible production, Ben and Jerry's has always been ahead of the pack. So it was a no-brainer when they announced their commitment to create certified Fairtrade flavors.